When many people think of accounting, they automatically picture a disheveled someone hunched over a desk covered in receipts, tax forms and old cups of coffee, frantically entering numbers in a calculator. 
For Rootworks members, that picture just isn't true. While the profession can appear boring to outsiders, we know that accounting has its thrilling moments. Just think: Al Capone, the famed mobster, was taken down for tax evasion by—who else—forensic accountants. 
Accounting is much more than crunching numbers and doing taxes, so let's debunk the three most common myths about the accounting profession.
Myth #1: Accounting is boring
To outsiders, the overarching impression of accounting is that it's boring. Sure, accountants love spreadsheets and numbers, but it doesn't end there. Today, if you want an accounting career but don't want to be a tax accountant, you can specialize in forensic accounting, fashion accounting, sports accounting and even entertainment accounting, just to name a few. (Hey, celebrities and famous athletes need accountants, too.)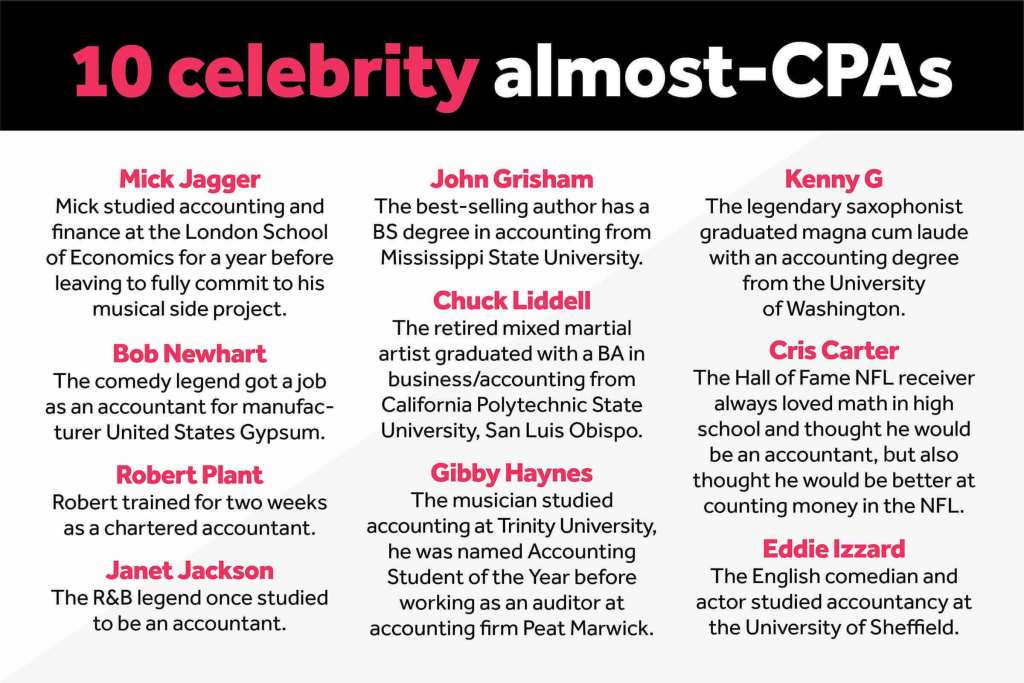 And speaking of celebrities, did you know that Mick Jagger, lead singer for the Rolling Stones, attended the London School of Economics to study accounting on a scholarship? Or how about John Grisham, the famous author of many best-selling legal thrillers, who earned a degree in accounting? Not so boring now, is it? 
Myth #2: Accounting is all about crunching numbers
There's more to accounting than just the debit and credit columns or general ledgers. For many accounting firms, it's about more than that; it's about advisory services. These days, accountants run financial reports with top-notch accounting software to do the heavy lifting that allows them to spend more time offering advisory services to their clients, like retirement planning, payroll, business management services or cash management services.  
It's not always about the numbers; it's also about analyzing them and leading clients toward success with their small businesses. In addition, accountants need good communication and writing skills to work with other staff members and their clients to take what could be seen as a confusing presentation of numbers and make it more easily accessible to a business owner who may not speak accounting. 
Myth #3: Accounting is only important at tax time
Contrary to popular belief, there's more to accounting than just taxes. Filing tax returns is just the tip of the iceberg for many firms. Accountants have many other duties: Ensuring compliance with federal and state regulations, handling payroll, creating invoices, preparing financial statements, and so much more.   
Preparing tax returns is part of the job for some firms, but accountants also help their clients stay on top of their finances and assist with growth opportunities throughout the year. Running a small business requires an accountant outside of the typical tax season—year-round is more like it.
Accounting myths vs. reality
We know that accounting is full of myths and stereotypes, but we also know that most of them aren't true. Sure, we love spreadsheets. And yes, sometimes we do have to crunch the numbers. But we provide our clients with much more than that—the peace of mind that their business is in good hands. 
To see how Rootworks can help your firm keep busting myths, schedule a demo with our team.